Welcome to New Dawn Tours Website!
Excursions in Sharm el Sheikh
New Dawn Tours Sharm el Sheikh is an excursion agency specialising in excursions and trips to many places throughout Egypt and we offer many other activities in Sharm el Sheikh, where we are situated, and its surrounding areas. The manager and staff have years of experience in providing high quality services for their visitors in a friendly and efficient manner.
At New Dawn Tours we aim to provide our customers with the most exciting and adventurous trips and excursions at a high quality service at a price you can afford.Our services include trips to:
Tiran and many more.
We also offer:
the list is endless
New Dawn Tours
is situated in Sharm el Sheikh referred to as the jewel of Egyptian tourism industry now, the city is rich with wonderful places of accommodation and tourist facilities.
Sharm el Sheikh
The city offers some of the finest places for diving and snorkelling in the world, it offers great value for money if compared with many diving spots in the world. It is also an ideal place for open water diving. Sharm el-Sheikh's major industry is foreign and domestic tourism owing to its dramatic landscape, year-round dry and temperate climate and long stretches of natural beaches. Its waters are clear and calm for most of the year and have become popular for various watersports, particularly recreational scuba diving and snorkelling. There is great scope for scientific tourism with diversity in marine life species; 250 different coral reefs and 1000 species of fish.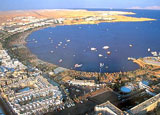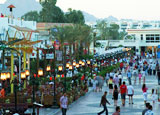 The nightlife of Sharm El-Sheikh is modern and developed. In 2005, Little Buddha, a sushi bar, nightclub, and bar, took the title of having the longest continuous bar in the Middle East.] Dance club franchise Pacha has one of its three African clubs in Sharm (the other two are in Morocco and Nigeria).These nightclubs and restaurants contribute greatly to the lifestyle led by Sharm el-Sheikh's visitors each year.
Sharm el-Sheikh is sometimes called the "City of Peace", referring to the large number of international peace conferences that have been held there. It was known as Şarm-üş Şeyh (Sharm ush-Sheikh, "bay of the Sheikh" in Arabic) during Ottoman rule and was known as Ofira during Israeli occupation between 1967 and 1982. Among Egyptians, the name of the city is commonly shortened to "Sharm".
Children under 4 free of charge and up to half price on most tours for children from 4 – 12 years old (exp Swimming with Dolphins and flights).
An English speaking guide will be with you on every trip.
See our special offer below if you book through our website.
We also offer free transport to and from the airport if you book with us.
Transfers in Sharm
If you need a taxi to anywhere at all while you are in Sharm call us. We can order a taxi for you and make sure you get the best price.