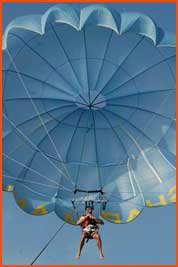 Parasailing has become a very popular activity in Sharm-el-Sheikh. In reality it is a gentle ride in the sky that gives you access to unforgettable aerial views over Sharm-el-Sheikh and provides you with the most amazing experience of flying through the air parachute attached, all without the extremities of throwing yourself from a plane and enormous heights. It is a very attractive activity to those interested in extreme sports.
We will sail for 10 minutes above Sharm-el-Maya area.
Drive back to you hotel
At the end of the tour we will drive you back to your hotel.
The program includes:
Transfer hotel/Sharm el-Maya area/hotel
Parasailing fees
Price: SNGL £20
DBL £30
TRP: £50
Duration: 10 Minutes
Price for children over 3 from £20.