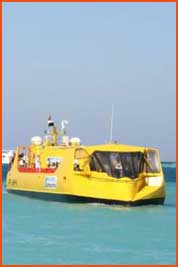 Pick up from hotel as per the chosen time, drive for 20 minutes to the Sea Dock, join the Semi Submarine. On the viewing area which is above the deck passengers can relax and enjoy the view. Everyone then heads below deck to the viewing area, this has rows of seats on either side facing out onto large windows along each side. Through 18 panoraminc hub lots window 100 x 125 cm you will be able to view, film and photograph wonderful under water life in a secure, air conditioned and comfortable atmosphere, seated in a movable circular armchair. The Seascope can take 34 passengers in which they can view the coral reef, the coloured fish and abyss.
After 45 min to 1 hour guests emerge from their underwater chamber to enjoy complementary drinks and the view on the leisurely cruise back to the jetty. Back to your hotel At the end of the trip the boat will be back to the jetty. You will be picked up by air conditioned car and driven back to your hotel.
Programme includes:
Transfer by Air conditioned car, tickets
Pick up from the hotel
Pick up from your hotel in Sharm el Sheikh in the morning and transfer to Sharm el-Maya.
Price for children over 3 is £22