Day 1: From Sharm El Sheikh to Cairo by bus:
Enjoy this 2 day visit to the city of Cairo, exploring the sights with time to spare by road to Cairo from Sharm. Stay in a city hotel for the night and take time to enjoy this vibrant city at your leisure in the evening.
We will pick you up from your hotel in the morning for 8hr drive to Cairo in 5 star coach.
On arrival, you will be met by our professional tour guide.
Egyptian Museum
You will first visit in Cairo will be the Egyptian Museum, situated in Tahrir Square. Built over 100 years ago by a French architect it houses the world's largest collection of Pharaonic antiquities and many treasures of Tutankhamen. It has 120 000 items with many of these on on display. There are many sections in the museum arranged in chronological order, Tutankhamon's treasures, pre-dynasty and Old Kingdom monuments, the 1st intermediate period and the Middle Kingdom monuments, monuments of the Modern Kingdom, monuments of the late period and the Greek and Roman periods, coins and papyrus and sarcophagi and scrabs. It also contains a hall of royal mummies housing eleven kings and queens. Your English guide will be with you too.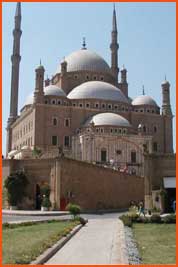 Lunch
You will then have a break for lunch in local restaurant.
The Pyramids and the Sphinx
Next we will visit the Great Pyramids of Giza and the mysterious Sphinx where you will be lead to the Valley Temple facing the great Sphynx and the last stop is Papyrus Institute.
Shopping
At the end of the day there will be time for a bit of shopping in the Pyramid area with plenty of perfumes, papyrus and souvenirs.
Overnight stay in Cairo
At the end of the day you will be be driven to your 4 star hotel in Cairo.
Day 2: Bus trip around Cairo and return back to Sharm El Sheikh
Day two includes a visit to the Sakkara Step Pyramid and the ancient city of Memphis before your journey back to Sharm El Sheikh
At the end of the trip you will be driven back to Sharm El Sheikh by bus.
We can also arrange for private tour. Price for children over 3 is £75. This trip is also available by air – inquire within.