Monday, Thursday, Saturday,12.00pm (Bus) – Monday, Tuesday, Thursday 4.30am (Flight)
Go to Sharm el Sheikh airport for 45 min flight. Our English speaking guide will be waiting for you in Cairo. You will be joining a group of around 10-15 people (35-40 if you go by bus) on a coach with English speaking guide.
Egyptian Museum
The first place you will visit is the Egyptian Museum of Antiquites simply know as the Egyptian Museum. Built over 100 years ago by a French architect it houses the world's largest collection of Pharaonic antiquities and many treasures of Tutankhamen. It has 120 000 items with a representive amount on display, the museum contains many sections arranged in chronicological order, Tutankhamon's treasure, pre-dynasty and Old Kingdom monuments, the 1st intermediate period and the Middle Kingdom monuments, monuments of the Modern Kingdom, monuments of the later period and the Greek and Roman periods, coins and papyrus and sarcophagi and scrabs. There is alsos a hall of mummies containing 11 kings and queens. Your English guide will be with you too.
Lunch
After the visit to the museum you will have lunch in a 5* restaurant on the Nile.
Pyramids and the Sphinx
After lunch you will go to see one of the seven wonders of the world, The Pyramids, the Pyramid of Cheops, Chephren and Mycerenius and also the Sphinx.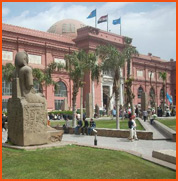 Shopping
This will be followed by some shopping close to the Pyramids area. Here you can visit some shops where you will find plenty of souvenirs. You will find perfume shops, shisha shops, bazaars and many more. You will go back to Cairo at 8pm then and fly back to Sharm el Sheikh. You will be dropped back to your hotel in our bush around 9.30pm.
The bus trip to Cairo take around 7 hours by air conditioned coach. The is a toilet available on the bus.
The programme is he same as above. Arrive back in Sharm around 12.30pm.
Don't forget to take breakfast with you from hotel and remember to take your passport and visa. Lunch is included in package.